Instructor permission is required to add full semester length courses starting Tuesday, Jan. 23 through Wednesday, Jan. 31 (Census Date). Starting on...
Advisors are an integral part of the club experience and can help our club go from good to great! This session will give you more information about...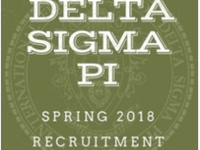 Enjoy free coffee and headshots and learn more about the International Co-Ed Business Fraternity Delta Sigma Pi!